Whilst in our current situation we can't look too far ahead to competitions that may or may not happen, it can still be said that with how smoothly WSM went we can expect the major events to still take place. This is with emphasis on Britain's Strongest Man, Europe's Strongest Man and again World's Strongest Man. It is also likely that the first ever UK Arnold's event (which Eddie Hall is heavily involved in) will also go ahead, being billed for October. By this time I hope some sort of normality is back in place.
With all this said let's have a look at My Top 5 Strongmen to watch in 2021.
5. Luke Richardson
With the young Yorkshireman coming off the back of an impressive year in strongman, essentially making his name on the biggest stages at all three of the flagship contests, its hard to not include his name. Winning ESM is a big statement by a man who is just 23 years of age and will no doubt be looking to fiercely defend his title this year too.
The contest he will most likely be looking to stamp his name on this year is the Brits. Finishing in 4th last year in his debut year was impressive to say the least. There's no reason he can't push on and look for a podium placement and beyond this year. Richardson, who comes from a powerlifting background, boasts a huge amount of static strength whilst having the speed of a young man on his side too. This will make for a very competitive combination when competing in any event thrown his way.
Whilst it won't be a simple task with the Stoltman Brothers and reigning champion Adam Bishop standing in his way, don't be shocked to see this athlete take home both the British and European titles this year. It's unlikely we'll see Hicks at the British comp due to his bicep tear but it is likely Europe's will be where his eyes are set.
4. Martins Licis
After missing the recent WSM due to injury recovery, it is likely we will see the boisterous MARTINS on a war path to greatness in 2021. With the Latvian-born athlete coming into 2021 with an eager excitement to return to competition it is likely that the year of competition will build towards the crescendo that is WSM. Whilst he has stated that his current focus is to win the Arnolds Ohio event, joining the coveted list of multiple time WSM champion will be present in the mind. In doing so he would become the tenth man on this list and the fourth American.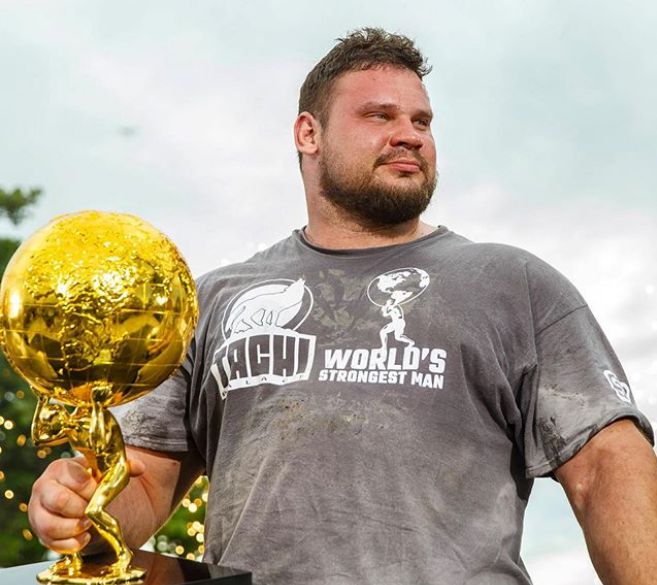 Martins is not only a high level and exciting competitor but also a great character in the sport of strongman. He has a positive attitude that oozes confidence which only makes him more likeable. Being only 30, Martins has a good amount of years ahead of him to add to his current title and it wouldn't be a surprise if he comes back with a bang in 2021.
He also regularly uploads to his YouTube channel where you can watch his training and impressive lifts with many strongman guests!
3. Brian Shaw
Big Brian Shaw had a fairly underwhelming 2020 when compared to his ultra high standards that will always follow him due to his undoubted strongman pedigree. And whilst it's clear he has already written his name firmly into the Strongman history books being second to only Mariusz Pudzianowski in the amount of WSM wins and winning a countless number of other strongman competitions, it is clear that there is still a fire within the 6 foot 9 American that burns to win.
Shaw has recently won the Shaw Classic, hosted by the man himself in December, which he has stated has renewed some confidence in himself going into 2021. This competition is an example of the mans love for strongman, in which he redistributed all prize money from his placement to other athletes in order to help other guys in the field. This kind of action shows why he's one of the most well respected and liked guys in the community.
He has also recently stated a desire to slim down, likely to help him speed up in various events such as loading medleys where he has seemed to lack. Being 39 years old many are saying his time is limited, but with the talent and passion he has for strongman coupled with a lighter frame – he may just be the most dangerous competitor going into 2021 hungry for that 5th WSM title.
2. Tom Stoltman
The Albatross. The greatest stone lifter in strongman right now and potentially ever. The taller half of the Stoltman brothers is an obvious pick who could not be left off of this lift. After an impressive 2020 in which he placed second at both Britain's Strongest Man and World's Strongest Man, it is clear to see the talent is there. Alongside this, Tom also broke the world record for the fastest stone run ever at the Sheffield based competition at the start of 2020 followed by the single heaviest stone ever lifted later in the year. With stones being such a staple in the strongman world, it will always pay to be good at stone lifting.
Tom has a combination of height and speed that is deadly over both static and dynamic speed based events that comprise all major strongman competitions. With another year ahead to improve, the 26 year old certainly has the potential to scoop one of the majors. Having won Scotland's strongest man for the past 2 competitions, he has proven there is the ability to win on a bigger stage.
It certainly will be an exciting year for The Albatross.
1. Oleskii Novikov
Whilst this seems an obvious pick, there's no real way you can't pick the youngest World's Strongest Man winner of all time in this list.
2020, competition wise, was a brilliant year for Novikov. He set a new world record for the giant dumbbell press at 11 reps under the World's Ultimate Strongman feats of strength series earlier in the year before heading to conquer the WSM title later in the year.
He has dominated the Ukrainian strongman scene since 2016 before making his first WSM qualifiers in 2019, crashing out in the brutal stone-off to American Trey Mitchell. However this year Oleksii was not taking such chances by winning his group. Then after setting the new 18-inch deadlift record in the finals, it was clear he was making a statement this year.
His eyes will surely begin to turn to Europe's next year in order to tick off another big tournament. And with his display at WSM 2020, it's hard to argue against him being able to win either of those competitions in 2021.